Personal branding is relevant now more than ever in today's economy of connection. We're now living in a world where everyone has something to gain from creating a personal brand.
Whether you're an artist, a content creator, or you're just great at what you do. Branding yourself will certainly be beneficial when it comes to getting your work in front of people.
The first thing you're probably wondering is where to start. How can you put all of your ideas together and create a brand worth following?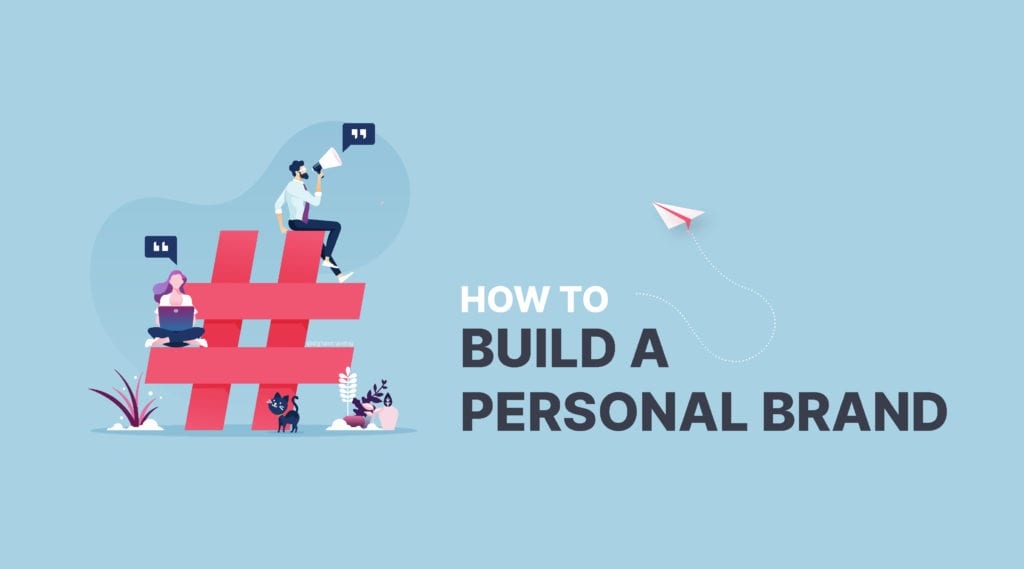 You can also download the guide as a PDF and save it for future use here.
In this 7-step guide, I will show you how you can create a brand, have fun doing it, and finally, monetize your efforts. So, let's start.
Topics that this article will cover:
Defining personal branding and your goals
Your target audience
Personal branding on social media
The content you should post
How to monetize your work
How to promote your personal brand
Who needs a personal brand?
There are many reasons why one would need personal branding. The most common intention is to build a business around your brand. That works best for Freelancers, Influencers, Content Creators, or Bloggers.
Everyone has a story and a unique process to share with others. Personal branding is a great way to showcase those skills and stand out from the crowd.
Why is it important to brand yourself?
Creating a personal brand is a great way to showcase your work, your, style, and your purpose. In other words, it provides character and personality to your body-of-work.
A personal brand can give you an advantage in many situations that are related to your career and lifestyle. If you want to build an audience and get their attention, you need to create a brand that people will relate to and support.
Step 1: Your Goals, Mission, & Vision
There are endless possibilities of what you can do with your personal brand out there. In the first step, you begin by defining your goals.
When I talk about building a brand, usually I start with defining the big idea. But in this case, the idea is yourself. So let's start with the most obvious question.
What do you want to accomplish with your personal brand?

There are no rules as to what that should look like. Just go with whatever comes to you intuitively, because after all, you're the only one with the idea.
Grab a piece of paper or open your text editor and start writing down your vision. In a few sentences, describe the vision that you have for your work moving forward.
This might seem like a trivial task, but trust me when I say that you're much more likely to accomplish the things you write down.
Set some goals for your future
Think about the things that need to happen for you to be successful in bringing your vision to life. How does that look for you? One year from now? Five years from now?
Write down the goals that you want to accomplish with your brand.
And thirdly, I want you to take a look at what you have so far, and extract the mission of your personal brand. Why is all of this important to you?
There must be a reason why all of this matters. I understand the part where you want to make a living out of your work but go a bit deeper with this one.
Create a mission that incorporates that change that you want to create in the world with your work. You can use this as fuel to build and launch your brand.
Step 2: Your background and story
Everyone has a different background, and a big part of personal branding is finding a way to tell your story and inspire others on a similar path.
Your audience needs to know and understand who you are, to connect with you. Here are a few things to consider when crafting your story:
Why are you the person who does this
What makes you qualified to speak on these topics
Where and how did your journey begin
What stories and experiences can you share with others
What lessons have you learned along the way
A big part of becoming influential in a community is sharing your experience and knowledge of the relevant topics.
Share the good and share the bad. We're all human, and people need to see that to connect with someone. You're experiencing the same emotions as they, you have ups and downs too.
Write down the most important things about yourself that you will use to introduce yourself to your audience.
Step 3: Your target audience
Understanding the target audience for your brand is essential because these are the people that you'll be speaking to. The internet is a place where everyone hangs out, and you're trying to find and connect with the people that are right for you.
Determine who you're doing this for. You can do that by researching, or you can get in touch with people that you think are the right fit for you.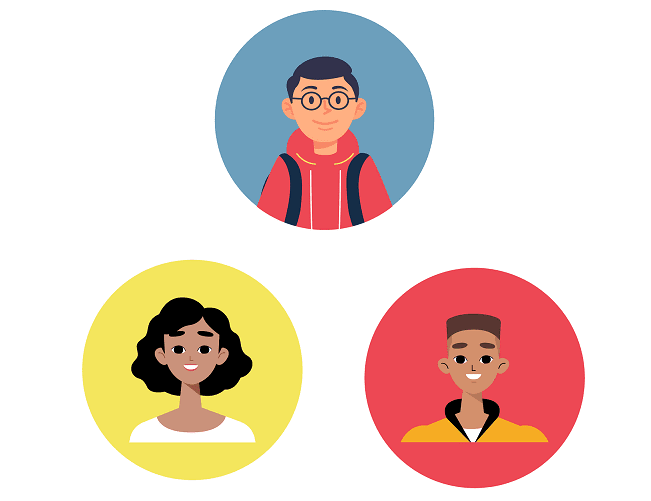 First, narrow down their demographic characteristics such as age, location, income, education, job title, gender, or anything else that will be useful to know ahead.
Then you can go a step further and think about their lifestyle and how you fit into their daily life. Here are some questions you need to answer:
How does a typical day for your target audience look like
What kind of activities do they enjoy in their free time
What are some goals they want to achieve
What are some problems they face on their journey
What is something they need to make life better
Create a picture of how they spend their time and attention during the day. That will make it easier to find a place for your brand in their lives.
They shouldn't be the ones that make changes in their lives to incorporate your brand. You need to fit into their routine and help them by making the problems that they face daily easier to solve.
Connect with your audience
Finally, spend some time researching the behavior of your potential audience. Here are some things to look for in your research:
The type of profiles they already follow
The community websites and forums they visit
The hashtags they follow and use
The language they use on post captions and comments
The profile description in their bio
Simply put, you need to look for what type of content they need from influencers. When you have a clear picture of how they spend their time on the web, you can think of ways to get your brand in front of them.
Step 4: Your place in the world
So far, you've worked on building who you are, and what your brand represents. Now, we should move on to finding your place in the world.
The internet has billions of users, so you're bound to enter an industry where established personalities are already present. That means you have to find a way to differentiate yourself and build a novel personal brand.
After you have a good idea of who you're trying to reach, it's smart to take a better look at who you're competing with. Get to know who they are, what they post, and other useful info.
Here are some things to look for in your research:
What are the most popular personalities in your industry
What type of content do they post
What are the differences between you and others
There are millions of pieces of content uploaded to the internet each minute. That means that your brand needs to stand out in some way to get noticed.
Is there something people are looking for, but nobody provides? Find a unique way to interest and hook your audience.

If you still don't have a personal website, now is a good time to set-up your digital space with the help of our affiliate partner Namecheap.
The offer affordable domains + hosting with a free SSL certificate included, and a ton of other goodies that will help you build a website.
Step 5: Your brand identity
Your followers need to get to know and understand who you are, so they can connect with you. Forming a unique identity for your brand will help you do that.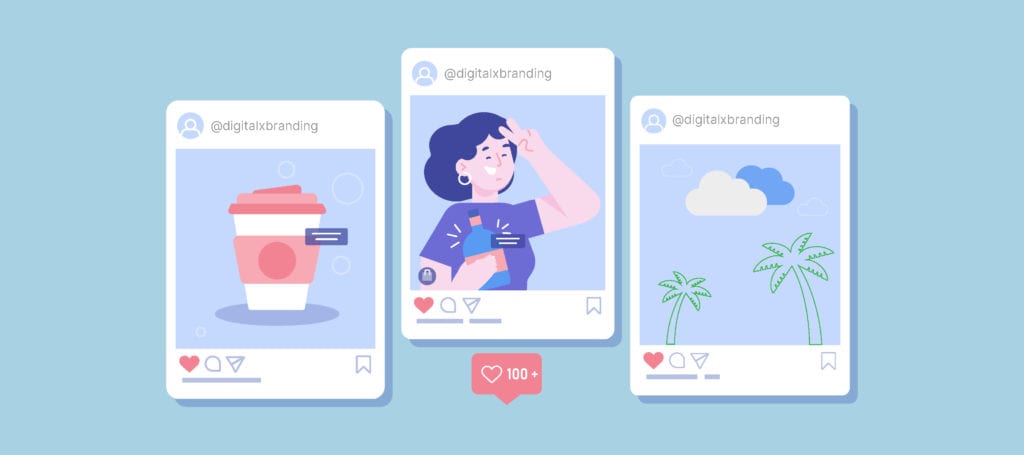 It's not only about the profile picture and description, but you also need to dig deeper to find a purpose behind your brand. That includes your visual style and the messaging behind your brand.
You're not expected to be great at everything for the right start. Your personal brand might take some time to develop a unique style, and that is perfectly OK.
Branding visuals
Visuals play a huge role on a platform like Instagram. Only when a post visually grabs our attention, we stop and take a closer look.

Consider the visual elements that you'll be using. That includes your brand colors, the logo or profile photo, the fonts, and every other visual element that contributes to your brand aesthetic.
The Goals of a Visual Identity
Since it is the first thing that people get in contact with, here are a few things that a well-designed visual identity should successfully get across to potential consumers:
Visually communicates your personal style
It showcases your unique personality
Makes your work easily recognizable
It's well set-up and pleasing to the eye
It's consistent across all products and channels
Brand messaging
Once the audience has analyzed the visual surface of your brand, and they like what they see, the next step would be to learn more about your purpose.
You can extract messaging from your brand story, the mission, and the vision behind your work. Your followers need to connect with your purpose.
As people, we always look for a bigger meaning behind the things we choose to do. The visuals get the attention of people, but they will ultimately stay for the common vision.
This should be felt on your social media post, your personal website, and everything else that you do.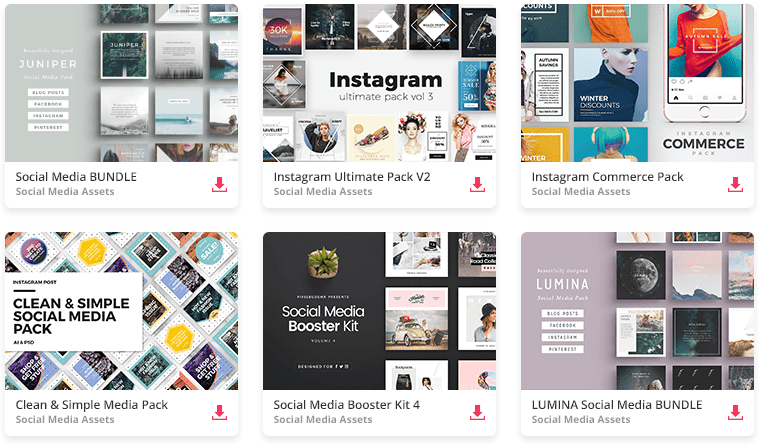 All the Social Media Graphics you need and many other design elements, are available for a monthly subscription by subscribing to Envato Elements.
There is no need to create every single thing from scratch. You can get the stuff you need and make them your own. Save time and energy on creating content.
The subscription gives you unlimited downloads from a massive and growing library of 1,500,000+ Social Media Graphics & Design Assets that can be downloaded as often as you need (stock photos too)!
This is an affiliate partner offer. If you like the products and choose to subscribe through our links we will get a small compensation in return, at no extra cost for you. These type of offers keep the website online and help us create more content about branding. Thank you for your support!
Step 6: Your offers and value proposition
In this next step, think about what you do to serve your audience. This is the business model equivalent to personal branding.
One of the goals of your brand is to monetize your work in some way and provide sustainability. You need to earn money so you can support yourself and stay creating what you love.
Before you start brainstorming about ways that you can serve your audience, I want you to start with a question in mind.
How much money do you need to earn to be comfortable and free to create your work?
Now I'm not asking you to hire an accountant right away. But think about your expenses and what is the goal for your earnings. It's good to come up with a number that you will have in mind.
There are many ways to go about planning your value proposition, but in this article I want to introduce you to three ways you can think about your personal earnings model.
Come up with a starting offer
This is the work you offer to your audience for absolutely nothing in return. You need this type of work to show your capabilities, and in a way cast bait for them to grab on.
For digital content creators, this means free contents in the form of photos, videos, blog posts, helpful tips, free resources and so on.
When you do this, you provide value for your potential customers immediately. It builds the basis of trust and future collaboration.
Even regular photos can provide entertainment or insight for your audience.
Your monetization model
The next level should get your monetization going. It should stem from your mission as a natural next step that people expect from you.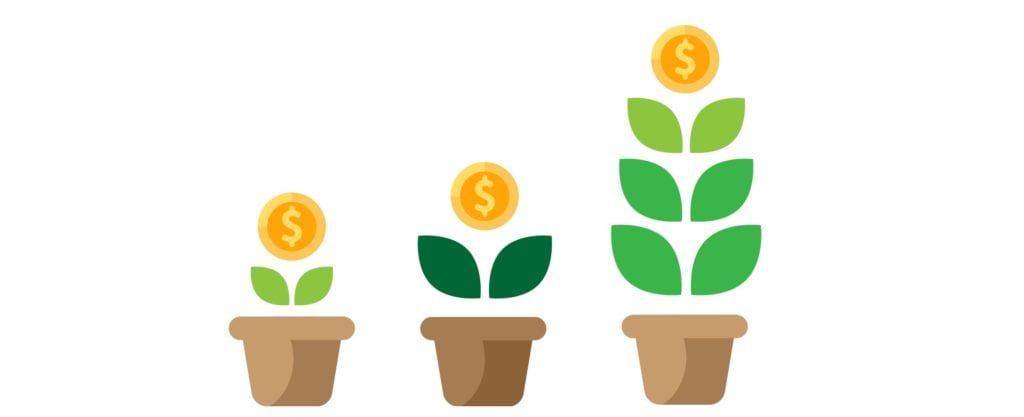 The way you monetize your work should make sense for your audience. For example, if people follow you for fitness advice, they expect you to be affiliated with fitness products or services.
Here are ways that you can monetize your personal brand:
Affiliate promotions
Brand deals and collaborations
Placing advertisements on your content
Offering digital information products
Selling physical products
Consulting and coaching people
Creating a subscription-based offer
I suggest that you focus only on one monetization model to begin with. As your audience grows, you can begin to introduce multiple ways to monetize.
Step 7: Your branding strategy
Trying to brand yourself without a strategy behind it, is like leaving everything to simple chance or luck. You need something that will guide you to success.

You've already done some preliminary work with your target audience research, so now it's time to place a strategic approach behind it. Consider the following:
How to reach them at different moments
How to present your brand to them
How to market to them
How to hook them and keep their attention
How to reach a high conversion rate
There are many opportunities for your brand to fill in the blank by making sure that you provide the right content, product, or solution to people.
Related: How to build your brand on Instagram
Your platforms and channels
Think about where would your target audience hang out? Your people might be hanging out on forums, Facebook groups, they might be scrolling through Instagram, watching videos on YouTube and so on.
Part of your branding strategy is to figure out a way to reach those right people, by using the right platforms and channels.
Platforms are the foundation on which you can build your brand presence, such as the web, phone apps, social media, and gadgets.
Channels serve as a more direct means of communication and include email, advertising, search engines, chatbots, phone, and more.
Make sure you know where your audience hangs out online, so you don't miss out on potential opportunities to connect with them
Similarly, make sure you're not wasting your time on platforms that don't work for your brand and have low returns.
What comes next?
Sit down and plan out the next few months, or even the next year. Where do you want to be at the end? What do you want to accomplish? How are you going to do that?
Don't leave it all to chance. Create a strategy for your personal brand moving forward.
If you've followed the steps so far, you should already have an idea of the bigger picture of your brand. Your mission, your audience, your story, and your content all work just for you, and no one else.
How to Create a Personal Brand (7 Steps)
Outline the goals, mission, and vision of your branding
Define your avatar, background, and personal stories
Understand the audience that you're targeting
Research the community and competition
Create a unique brand identity
Find a way to monetize your personal work
Come up with a marketing strategy for your brand
The personal branding worksheet is a printable document you can use to keep all of this information in one place. It will remind you of your journey and purpose. ( New version coming soon, please check back. )
It can also be used to show others what you do and why. You can download it for free and start working on your personal brand today.