Creating content is important for all digital brands.
Whether it is for your social media, your brand website, or any other platform, content can help you connect with your consumers.
However, we often are stuck on what to create, even when it seems like there are tons of different possibilities.
So, how can you generate original content ideas for your brand?
There are many instances where your brand can present unique content, and for your strategy to be successful, you need to cover all of them.
I divide them into five parts: educational content, inspirational content, community content, trending content, and promotional content.
Educational Style Content
The purpose of this type of content is to provide answers, solutions, and information to your audience.
It will help you build brand authority over the topics that matter most in your industry. That is why educating your audience should be the foundation of your brand content.

Educational content is evergreen, so you should craft it with a lot of attention and provide a lot of value. When you're creating educational content, you should think about providing long-term information that your consumers need.
1. How-To Guides
Creating how-to guides is a great way to showcase your expertise in cases that your target audience is interested in.
It can range from simple instructions for small tasks, to in-depth guides about topics that are relevant in your community.
Social media posts can cover simple tasks in the form of photos or videos, while your website blog can include long articles where readers go to learn more about the topic.

Example: Oreo has one of the most recognizable how-to guides in the world. You twist, you lick, and you dunk. They're constantly finding new ways to present this to their audience, like in this video.
2. Lists
Lists are another way to provide informational content and organize related information. Lists can help people keep track of everything that they need for the topic in question.
Think of lists as a tool for delivering all available options regarding a certain topic. Not every item on the list has to be accepted by the reader, but it sure is nice to have all the options in one place.
Example: This article itself is an example of a list that contains multiple choices for you as the reader to go through and find what you need.
We also have a list of 25 Free Content Marketing Tools where you can find some more help.
3. Tips and Insight
We've all browsed the internet in need of some tips or advice. A credible brand should be able to provide the right tips or insight for its audience.
Consumers look for insight before making a decision, to find new possibilities or solutions to the problems that they face regarding a subject in question.
This is an opportunity for you to be the guiding voice of authority. Prove to your audience that you have what it takes to improve their position.
4. Case Studies
A case study is an in-depth and detailed examination of a particular case. Delivering this type of insight to your audience is an excellent opportunity to prove your expertise.
You can perform case studies on your brand activities, or you can team up with affiliate partners and even your consumers.

Example: Bynder is a digital file management platform that has an extensive resources library that uses case studies to provide insights into digital asset management, brand management, and marketing technology.
5. Tutorials
A tutorial is another great example of how you can supply information that will solve some of the problems that your audience encounters daily.
The difference between a How-to and a Tutorial is that it's more interactive and specific, tackling a problem that usually has a universal solution. Think of it as an instruction manual.
YouTube is one of the most popular go-to platforms for delivering tutorials since videos are effective in showing the process. Of course, depending on the task, you can adopt a tutorial to any platform.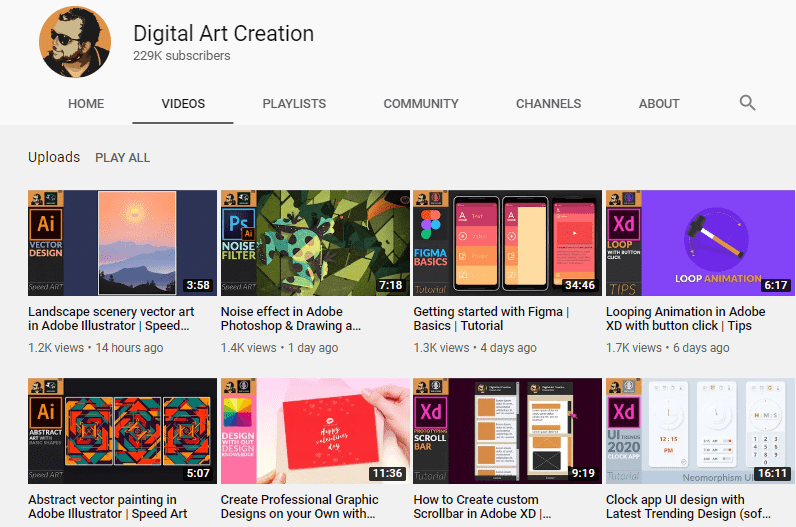 Example: Digital Art Creation is a Youtube channel that posts tutorials about graphic design software.
6. Analytical Content
Charts, diagrams, tables, and other frameworks are a great way to deliver an analytical type of content that organizes topics into contextual pieces of information.
The benefit here is that these frameworks are usually very engaging, and they keep the attention of the consumer for a long time while they try to understand the idea behind it.
If you execute it correctly, it can make information compact and easier to understand, which will always be appreciated by target consumers.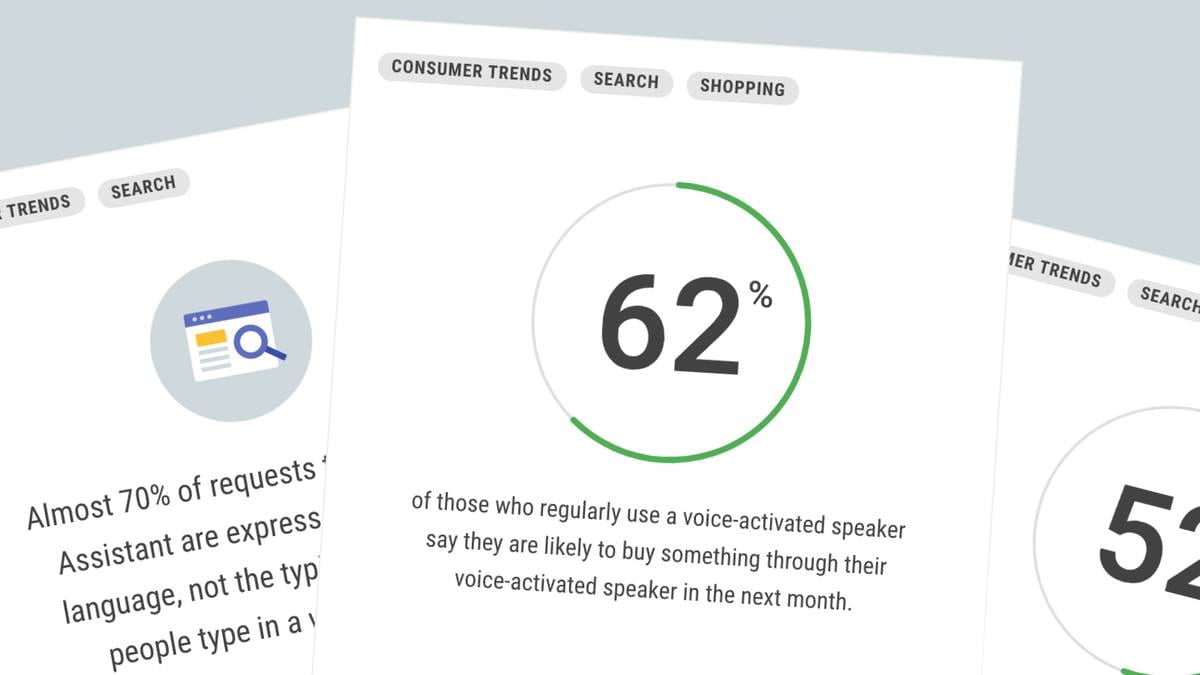 Example: Think with Google is a place where you can find insight into consumer behavior, and their articles are usually full of creative data presentation.
Inspirational Content
The second tier of content is all about motivation and inspiration. We all need those small nudges toward making the best from life, and this is where your brand can come in.

While educational content is there to inform your audience, inspirational content is more lighthearted and entertaining. It's there to inspire creativity and happiness.
7. Ideas
The brands we choose to use in our everyday lives are those that add value to the lifestyle that we aspire to lead. That is why new and fresh ideas are always welcome.
Inspire your audience by smart and interesting suggestions that they can adapt and implement in their lifestyle journey.
Example: Social media is full of photos and videos about lifehacks and ideas that people can get inspired by. Good ideas are share-worthy, and they will boost your social engagement.
8. Perspective
As people, we are curious about the point of view from others around us, especially those who are experts at something. Creating content that gives your perspective on relevant topics shows that you care about them.
Take a stand for those important things that matter in the life of your audience. Show them that you have a worthy opinion about the things they care about.
9. Stories
Stories are a natural way for people to connect. We all connect with interesting stories that arise emotions.
The good news for your brand is that anything in this world can be turned into a story if you structure it that way.
You can find stories to tell from your brand's origin and past experiences, stories about some of the people in your organization, and even stories that happened to somebody else but made an impact on your values.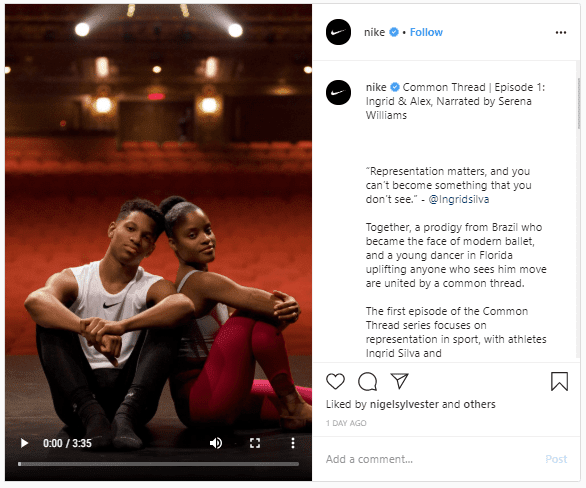 Example: Nike partners with athletes from across the world to share their stories about their journey in the world of sports and fitness.
10. Theories and experiments
Facts are always appreciated, and they play a big role in the learning process, but they are not all there is to learning.
Theories and experiments are interesting because you set the stage up for a surprise outcome. Surprises and uncertain outcomes keep us on our toes no matter what form they come in. It's a great way to learn and grow together with your audience.
Community Content
In recent research done by Facebook about How To Connect To New Audiences on Instagram, people said that they use it because they can interact with brands, influencers, celebrities, and friends.
That creates a stronger connection with your audience, and they will be more likely to follow you, share, recommend, and so on.

This type of content helps you build loyalty through direct involvement with the people that are most important to your brand.
11. Content about events
Many events happen in the community your brand is part of, whether its important holidays, conferences, meetups, or anything else.
You can post content that is related to holidays and other happenings that are relevant to your brand and your consumers.
Similarly, you can organize, or report live from conferences, community events, and gatherings, for those people who cannot experience it in the first person.
12. Behind the Scenes Content
A lot goes on behind the scenes of an organization every day, which means that there is a lot to draw from and share with your audience.
Transparency on company culture and practices largely increases the trust that consumers will place in your brand. The more they know about you, the more they are likely to choose you over a similar solution.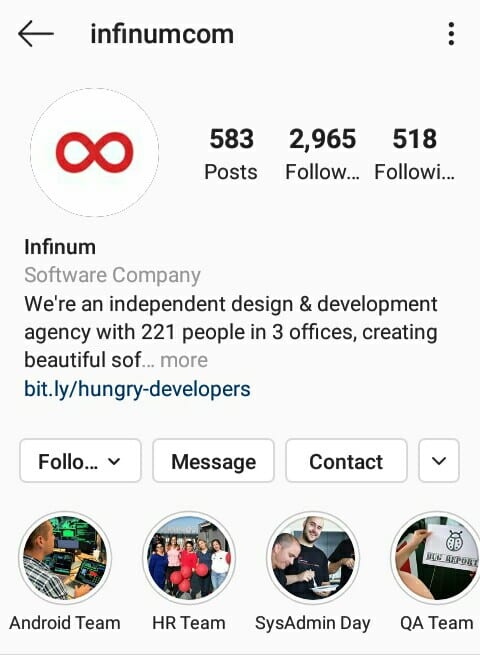 Example: Infinium is a design agency that regularly posts Instagram stories about how employees work and spend their time behind the scenes.
13. Testimonials
Testimonials are the most popular way to provide social proof to those who are in the consideration phase on their consumer journey or partners that you collaborate with.
You can collect success stories directly from consumers who are willing to share, or you can extract them from things like comments and direct messages.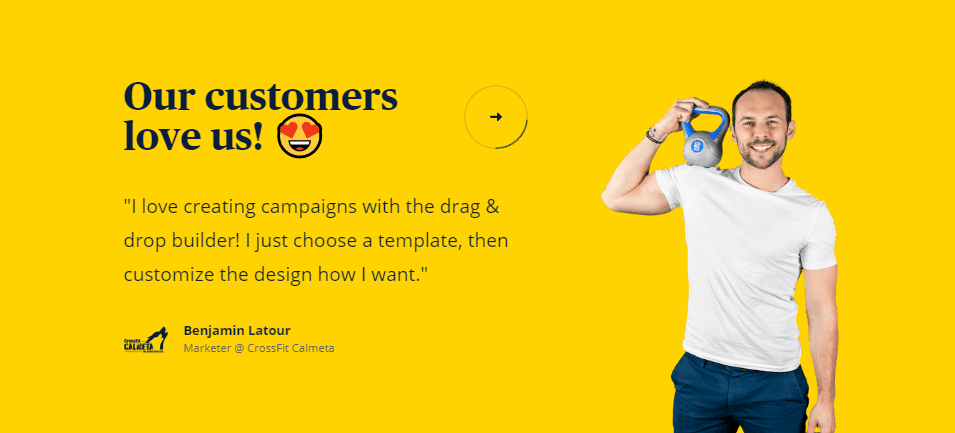 Example: SendInBlue [Affiliate partner link]  is an email marketing tool that helps marketers and businesses build a list and communicate with their consumers.
They have a section on their homepage that showcases real customers with short quotes about the product.
14. Earned Content
Earned media includes all content that you gain through a third-party publisher. Brands try and initiate this type of content because it increases credibility and brand exposure by tapping into other user bases.
Give incentives to your existing audience and invite them to take part in creating content. Challenges, contests, and Q&A sessions are a perfect example of how you can get your audience involved.

Example: Before the premiere of the Birds of Prey movie, the #BirdsOfPrayChallenge in collaboration was created by partnering with and animation platform that gives fans some source materials like stickers, and invites them to create inspired art.
The chance to be featured on both platforms and earn tickets to see the movie are some of the prizes offered in return.
15. Interviews
There is a reason why podcasts are extremely popular. People love to hear conversations and debates on topics of interest.  You can interview consumers, partners, influences in your community, or anyone else that you think will bring value to your audience.
Content About Trends
New things happen on the internet every day, if not every second. That can help you to always find a way to generate fresh ideas for your content.

This type of content usually performs well while the trend is recent, and then the interest is lost over time. This is perfectly ok because not all content can be evergreen, but it will help you boost your reach for the moment being.
16. News
Report on news and things that are going on in your community at the moment and be the first to spread the word about something.
News content doesn't have to resemble a serious TV-like format. You can talk about all kinds of things that you think your audience finds relevant.
17. Trends
The internet has made it possible for all kinds of activities to go viral, and people love to explore different versions of the same trending topic.
Content that revolves around current trends can be a fun way to participate in something that amuses your target audience at the moment.
Trends tend to go away quickly, but if you jump on the train on time you can boost your short-term reach.
18. Reviews
In today's digital culture, it's common practice to look for reviews and experiences that others had with the things we want to purchase or use. Reviews and offer comparisons are a good way to give your two cents about things that your audience cares about.

Promotional Content
Your content strategy also calls for the right amount of promotional content in the mix. You can use this type of content to bring attention to offers, products, or services that you offer.

The content that you use for a specific marketing campaign is separate from this.
19. Sponsored Content
Sponsored media is all paid for placement of content that contributes to the exposure of your brand. You can use it to guarantee placement in front of a highly targeted audience that you determine as the publisher.
While the organic reach of your content is important, paid promotions are an effective way to bring the attention of an audience to something specific.
However, that does not mean that this type of content has to be an obvious advertisement for your brand. Content full of value is a promotion in itself.
 20. Descriptive content
Describe your offers in more creative ways than the typical landing page. The idea behind this is to creatively explore what you have to offer without the pressure of a sales page that indicates your intention is to convert them into a customer.
When people are attracted to your offer organically, they will go and seek out the offer page by themselves. Your job here is to place it near enough and make it easy for them to jump over.

Example: Sprout Social recently updated the design on some of their services and they posted a detailed post where they explain the changes made to their customers.
What is next?
The goal of your content marketing efforts is to carefully place your brand alongside these topics. The level of importance that you give to each category depends on the type of brand that you run and at what stage of content maturity you are.
Experiment with different types of content and use the feedback you receive to learn what works best for your audience. With time, you will discover what they are looking for, and you will find your brand voice.

If you need more help with your content marketing strategy you can download the free Omnichannel Strategy Guide.
Share this with your friends?