Instagram is a great platform for you to reach a large audience and increase brand awareness. A brand profile that is well put together will help you grow your following.
According to a recent Instagram survey, 2 in 3 people surveyed (66%) saying Instagram is a place that enables interaction with brands.
People also say that they're eager to hear from brands on Instagram. That makes Instagram the perfect platform to grow your brand following.
I created the ultimate Instagram brand checklist that you can follow to put together an awesome profile.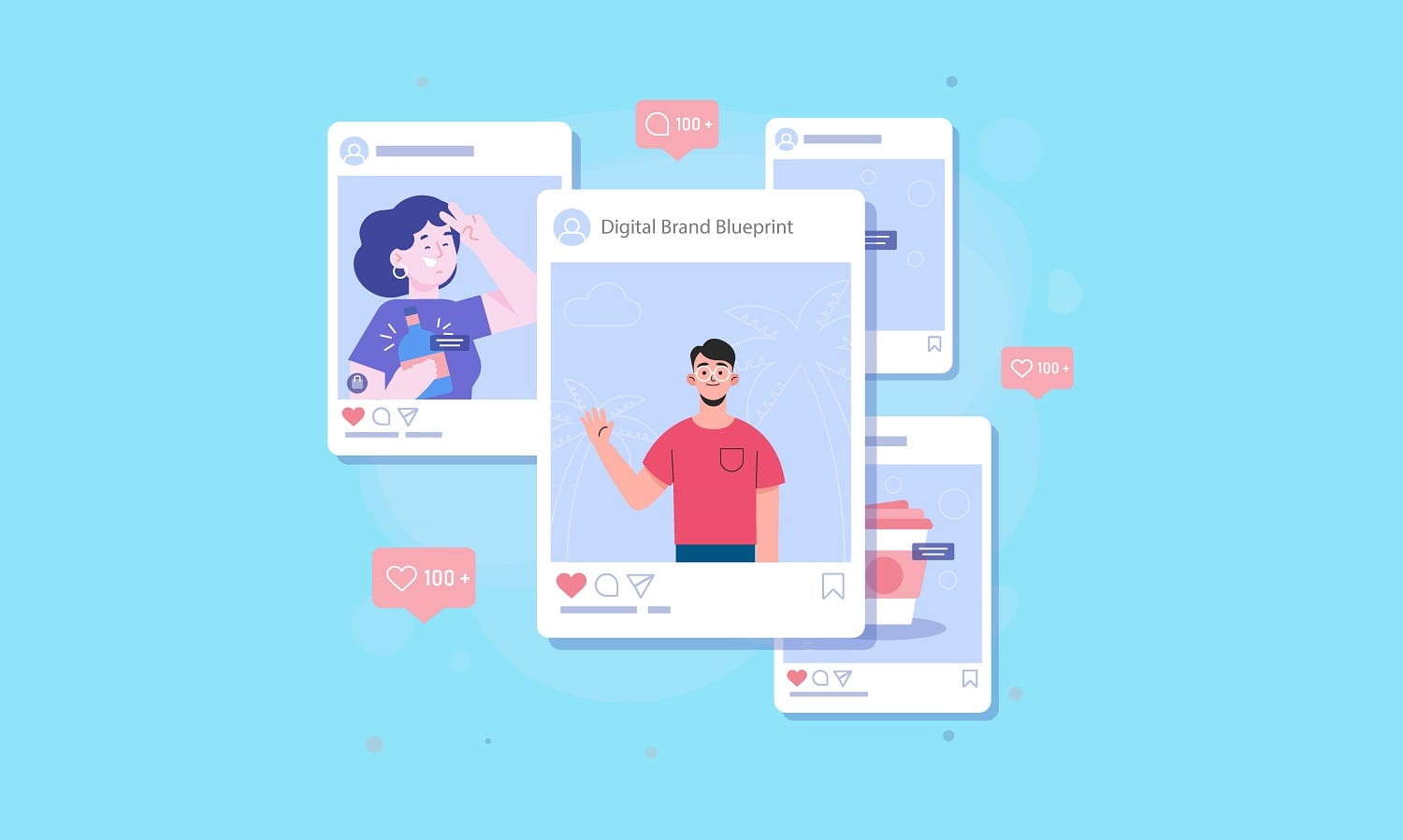 1. Switch to using a business or a creator account
There are currently three types of profiles on Instagram. The default Personal account, and two alternatives for professional accounts, the Business and Creator profiles.
To optimize your Instagram experience for growing your brand you need to start by specifying what type of account you want to use.
Your first step is to change your account type to a Business or Creator account. With this, you get access to features that regular accounts don't have.
Business profile benefits:
Get metrics on how your stories and promoted posts perform
Get Insights into how users interact with your posts and stories
Show information about your business hours
Add a business location if needed
A phone number or e-mail where people can contact you
You can connect your Instagram profile to a Facebook page
Promote your Instagram posts as sponsored ads
Access to a brand partnership label

How to create an Instagram Business account
Within the app, go to your profile and tap the Menu icon with three lines. You will find it in the upper right corner.
Tap the Settings button at the bottom of the row.
Go to the Account tab and choose Switch to Business Account.
You'll be asked to choose if you want to connect to your Facebook page.
You will be prompted to add the business information you want to be displayed.
Finally, tap Done after you're finished.
Having more information about your brand builds trust with your audience. People are more likely to find your brand trustworthy if you have information publicly displayed on your profile.
You can also choose to switch to a Creator profile.
What is the difference between a business and creator profiles on Instagram?
You get additional features with both a business and a creator profile. The main difference is that you get daily follower growth charts as a Creator.
You also have more control over your Inbox with a Creator profile. The DMs are separated into three categories: Primary, General, and Requests.
You can always switch between the two, so choose the one that fits you best at the moment.
If you have a personal brand chose a Creator profile. If your brand is an organization then choose a Business account.
2. Optimize your Instagram profile Bio and Description
Your Instagram profile is the main point of interaction with people.
The search results that Instagram offers are also quite limited. That is why you will need to optimize your profile. It will increase the chances of how people can find you on the platform.

That means that you need to include all the right information on your profile and optimize your username and bio. Here are some things to consider:
Choose a username that reflects your brand name. If the original is already being used, you can get creative and go for something that still shows what your brand is.
Choose the type of brand when you edit your profile.
In your Bio section, describe your brand in a couple of sentences to introduce people to who you are.
Use hashtags in your description to increase your chances to be found on search
Use emojis to express your brand personality, and to make your bio more visually pleasing.
Add a website to your profile and include a call to action
A good profile will help users understand what your brand stands for and how you will help them if they click follow.
Your profile can be the ultimate business card. It's the place that needs to be perfect because it offers a big opportunity for converting users to followers.
3. Add all of your contact info to your profile
You can add many ways for your audience to contact you. In this step, you can set-up your info and allow your audience to contact you in multiple ways.
Under Public Business Information, you can edit the following: the Page your Instagram professional account is connected to, Business Category, and Business contact info.
Add a brand website to your profile
Include a phone number where they can reach you
Add an email address to receive e-mails
Invite people to direct message you
Once you've finished updating your business info, Tap Done to return to your profile.
4. Consider the visuals you use on your profile
Visuals play a huge role on a platform like Instagram. Only when a post visually grabs our attention, we stop and take a closer look.
Consider the visual elements that you'll be using. That includes your brand colors, the logo, the fonts, and every other visual element that contributes to your brand aesthetic.

Logo / Profile Photo: Every brand needs a well-designed, memorable logo. Go for a profile photo that looks good as a small image, because Instagram is mainly a mobile platform.
You can your logo as a signature stamp on the content you create, but be careful not to overdo it.
Brand Style
It is proven many times over, that colors and different tones affect our mood, our decisions, and even the perception of products and brands.
Find the right colors that express your brand identity, as Netflix does with the use of bright red.
Apply your colors when you're creating original content and find a way to implement them in the posts. With time, people will start to associate those colors and the emotions they awake, with your brand.
Mood board: Style sheets or mood boards are a great way to get inspired when you're creating content. Mood boards include all of your presentation ideas, color palettes, and any other visuals that inspire you.
Put together a mood board to tie together the style of your brand on Instagram.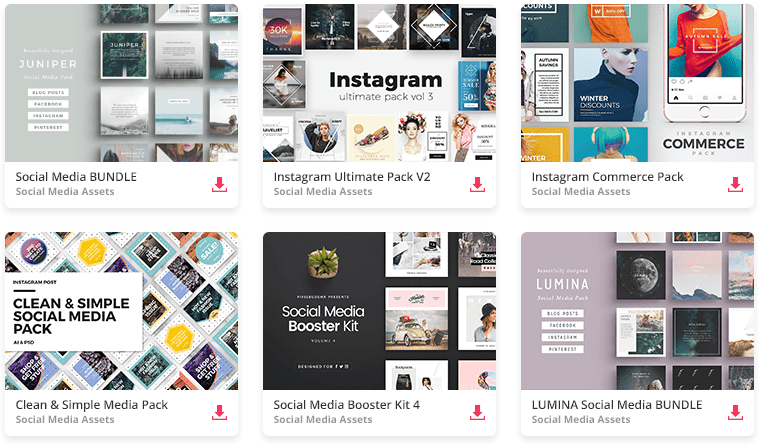 All the Social Media Graphics you need and many other design elements, are available for a monthly subscription by subscribing to Envato Elements.
The subscription gives you unlimited downloads from a massive and growing library of 1,500,000+ Social Media Graphics & Design Assets that can be downloaded as often as you need (stock photos too)!
Digital Brand Blueprint is an affiliate partner for Envato. If you visit their page through our link and subscribe we will receive a small commission at no extra cost for you. This keeps the website growing 🙂
5. Follow relevant hashtags and other Instagram profiles
You want to start appearing in similar profiles and recommendations. You also need to be present in the already formed community that you're trying to connect with.
This is where following relevant content on the platform can come in handy. Get to research and find opportunities to follow.
Your potential audience is already using the app, so you just need to find a way to reach them. Spend some time researching the behavior of your potential audience.
Here are some things to look for in your research:
The type of profiles they already follow
The hashtags they follow and use
The language they use on post captions and comments
Simply put, you need to look for what type of content they need when they visit Instagram.
After that, you can place your brand profile in between that content so you can start building your presence.
6. Add Highlights to your Instagram profile
Highlights are another area of your Instagram profile that you can use to capture the users' attention and turn them into a follower.
Instagram allows you to create Highlights where you can pin some of your stories that you've shared and keep them on your profile forever. They appear right below your profile bio.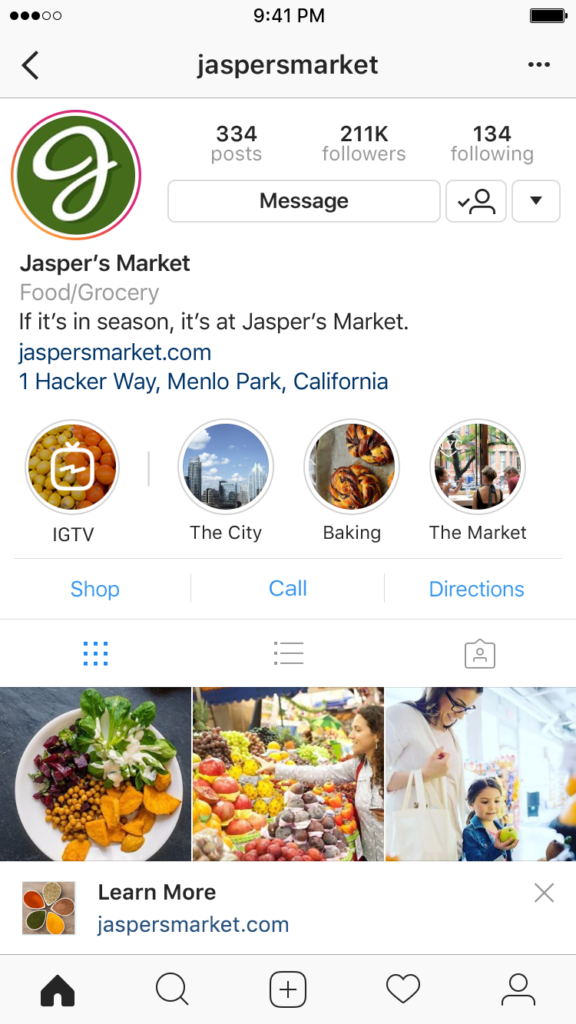 1. Go to your profile and tap Story Highlights below your username and bio.
2. Tap the plus button.
3. Select the stories you want to add to highlights, then tap Next.
4. Tap Edit Cover > Choose a cover photo > Tap Done.
5. Enter a story name for your highlight and click Done.
You can add more photos or videos to your highlight at any time by tapping and holding on the highlight and then tapping Edit Highlight.
Once you have enough stories to feature on your profile, group them, and create inviting Highlights to share with profile visitors.
7. Plan your Feed by creating a content calendar
It's no secret that algorithms tend to favor profiles that post more often and stay relevant. That is why it's useful for you to plan for the content that you want to post.

Creating a content calendar is a good way to plan, organize, and schedule specific posts in the upcoming period.
Here are the types of content you can post:
Educational Style Content: How-to guides, tips, insight, lists, and so on.
Inspirational content: Share your ideas, perspective, thoughts, and stories.
Community content about events, interviews with people, behind the scenes, and more.
Trending content to take advantage of growing hashtags and other trends and challenges.
Sponsored content to increase your brand awareness with the users on Instagram
Later is an official Instagram tool that you can use to schedule your posts ahead of time and see how your feed will look like from a bird's eye perspective in the future.
8. Consider your messaging and community
As mentioned in this Instagram Brand Report, people are getting used to connecting with brands more, and they expect and support brands that are there for them.
Your audience needs to know and understand who you are, to connect with you. An interesting story always hides behind the brand, and if you have one you should tell it to the world.
Here are a few topics you can talk about when crafting your post captions:
Where and how did your journey begin
What stories and experiences can you share
What lessons have you learned along the way
Share the good and share the bad. We're all human, and people need to see that to connect with someone.
Engage with your audience
Reply to comments, tweet back, and engage with your followers as much as possible. Simple interactions can go a long way, and they will make people more appreciative of your brand.
Sometimes you need to give your audience a slight nudge toward engagement. It's hard to say no to a giveaway or a prize. Your audience can market your brand for you if you give them a little bit of encouragement.
Get creative and find a way to get your audience more involved in your social strategy. Use the following you already have to reach even more people.
⚡ Related: How To Grow Your Brand On Instagram ⚡
9. Use your profile Insights to discover opportunities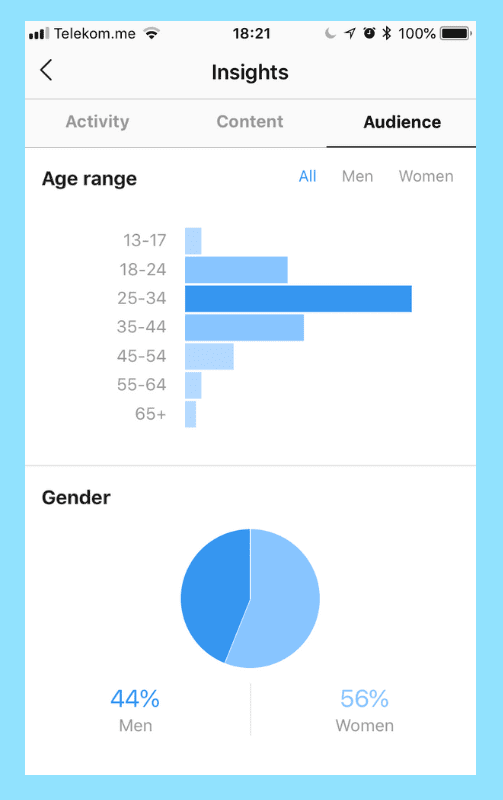 To grow your brand on Instagram you need to learn and understand your audience and the content they need. This is where the analytics that Instagram offers come into play.
The content you post on the platform collects data and information that can be useful for getting insight into the performance of your content.
By analyzing this data, you can measure the outcome of your posts. See works best for your brand so you can focus on creating more of that content in the future.
There are two ways to look at your Instagram Insights and they are profile and single post insights.
Profile Analytics
The profile analytics can tell you how many accounts you've reached in the past period and the actions that people take on your account. Such as reach and impressions, and profile visits.
Profile data also tells you about your audience, where they are located, what is their age, most active hours, and so on.
This can be useful for making decisions about what kind of content can cater to your audience and how to post.
Single Post Insights
Individual analytics give you stats on how many people saw and interacted with a specific post. Where people find your posts, and how they interact is a good indicator of your reach and quality.
You can use your top-performing posts to figure out why they worked so well. You can also try to re-create the same type of posts.
Check on your Instagram Insights regularly to keep track of your performance compared to your goals.
Find the right time to post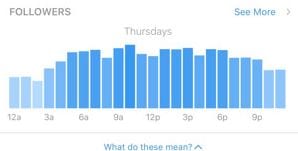 There are many debates about the perfect time to post on social, but the reports are not set in stone, and they always change.
Of course, Instagram has users from across the globe, all with a different time of day.
You can find the best time to post for your brand by keeping track of the days that your posts get the most engagement.
Instagram also offers information about the most active days and time of day of your followers in the Insight tab.
10. Connect your profile to your other digital spaces
Connect your other social media profiles to your Instagram account. When you post a photo on Instagram you can choose to share it also with your other profiles. This will help you increase the exposure of your account to other places.
You can link your Instagram profile on other platforms you own, such as your website, or other social media profiles as well.
Embed your Posts on Your Website
Embedding social media photos in your blog posts can increase the content reach and bring people from your website, straight to your social media.
You can also add your feed to other parts of your website. This is a perfect way to showcase your social updates and draw more people in.
Find creative ways to use cross channel promotion of your social posts.
Remember that it might take some time to get any meaningful traction on Instagram. The platform is oversaturated by now, so don't give up after a week.
Focus on your audience's needs, deliver valuable content to them, and try to stay as consistent as possible with posting your content.