Adidas is a multinational corporation that designs and manufactures sports shoes, clothing, and other accessories. Established in Germany, Adidas has since grown to be a global company.
Adidas is currently the largest sportswear manufacturer in Europe, and the second-largest in the world, after Nike.


The History of Adidas
Founded in 1924 by Adolf "Adi" Dassler with the help of his brother. First known under the name "Dassler Brothers Shoe Factory".
In 1947, the brothers split up and they both open their respective companies. Adi decided to rename his company to Adidas.
It didn't take long, for the lightweight Adidas soccer boots to become popular. Riding on the success of being used by the German national soccer team, Adidas turned into a household name.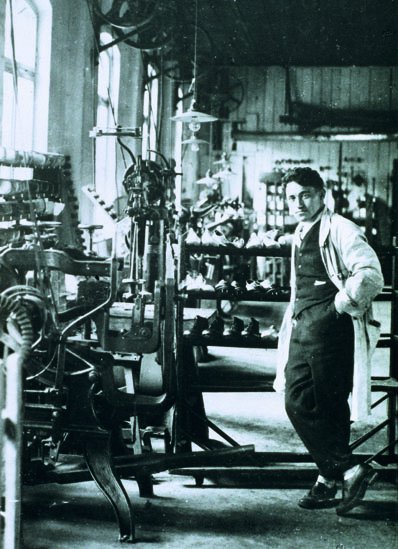 They introduced their first piece of apparel in 1967, known as the Franz Beckenbauer tracksuit mode. The suit opened a whole new opportunity for business to the company.
After taking on different types of sportswear, in 1970 Adidas became the company to provide the official soccer ball to every FIFA World Cup™ matches.
After the death of Adi Dassler in 1978, his family inherited the company. Eleven years later, Adi's son also passed away, and in 1989 Adidas became a stock corporation.
Some time later, in 1990 all members of the Dassler family sold their shares.
Since then, the company continues to operate as a corporation. Today, it is a leader in the sports industry, manufacturing different types of sportswear, accessories, and products.
Adidas Brand Identity Elements
Adidas is currently the largest sportswear manufacturer in Europe, and the second-largest in the world.
It features some of the most recognizable branding across many products in the sport and fitess industry.
Adidas Logos
The Adidas brand is famous first for its trefoil, and now for the updated three stripes logo.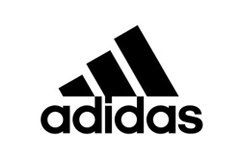 The original trefoil Adidas logo represents the three landmasses America, Europe, and Asia where you could buy their shoes. They first used it as their primary logo until 1988, and still use it today for the sub-brand Adidas Originals.
---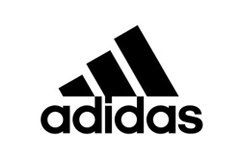 In 1990 a new logo was introduced by Peter Moore, featuring the famous three stripes. This logo represents performance and increasing success.
Nowadays they use their brand name wordmark as the logo, stylized as "adidas" in all small letters. This has been the most prominent logo since 2005.
You can find combinations of these three logos across the many products that the company manufactures.
Adidas Brand Colors
The two main colors used to express the logo and brand name of Adidas are black and white. There are seven other colors that resemble those of the rainbow, used as accent colors.
Here are the official primary and accent color hex codes.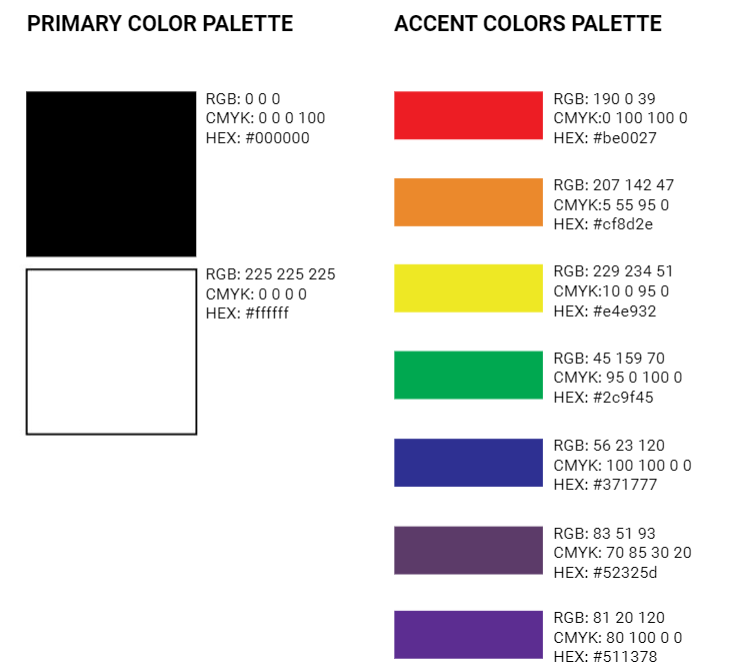 Adidas mission and vision
Adidas works to become the best sports company in the world. Here is their official mission statement:
"To be the best sports company in the world. Every day, we come to work to create and sell the best sports and fitness products in the world, and to offer the best service and consumer experience – and to do it all in a sustainable way."

Adidas Mission Statement
The official purpose statement of Adidas goes like this:
"Through sport, we have the power to change lives."

Adidas Purpose Statement
Adidas Values
Confidence
Collaboration
Creativity
Sustainability
Consumer-centric work
Adidas Brand Strategy
The strategic focus that the company has focused on is based on three main strategy pillars: speed, urbanization, and creative innovation.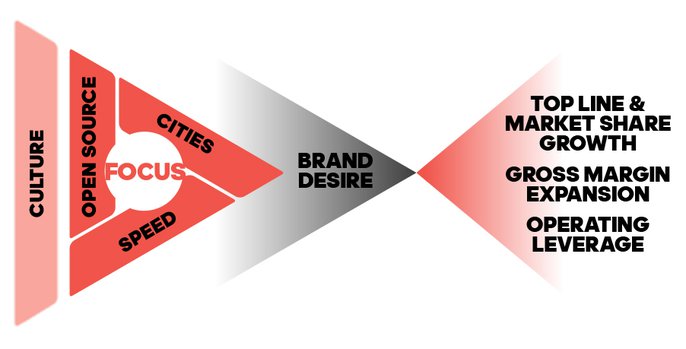 As stated in their strategy outlook:
Speed – How we deliver: First, to ensure that their consumers always find fresh and desirable products, where and when they want them. To become the first true fast sports company.
Cities – Where we deliver: They believe that cities are shaping global trends and consumers' perceptions, perspectives, and buying decisions. Their strategy includes six key cities in which they want to over-proportionally grow share of mind, the share of market and share of trend: London, Los Angeles, New York, Paris, Shanghai, and Tokyo.
Open Source – How we create: This is all about collaboration and innovation. That means inviting athletes, consumers, and partners to co-create the future of sport and sports culture with them.
Adidas Marketing

Adidas currently holds second place as one of the most popular sports and fitness brand in the world. Here are some of the ways that they market their products:
Numerous major kit deals with football clubs worldwide, including its main sponsor Bayern Munich.
They sponsor numerous sports players in soccer, basketball, rugby, and more.
Adidas is one of the official sponsors of the UEFA Champions League.
They do collaborations with well-known designers and celebrities.
The brand is featured in computer and other video games.
Adidas uses digital and media ads to reach customers across the world.
Other promotional activities
Branding and Subsidiaries
Adidas markets its products under its own brand, but as other brand names and subsidiaries as well:
Adidas Originals
Adicolor
Adidas 1
Adidas Superstar
Stan Smith by Adidas
TaylorMade-Adidas
Adidas Yeezy
Three stripes
Adidas Finances
Adidas's net worth as of April 2020 is 23.6 billion euros. How much a company is worth is typically represented by its market capitalization or the current stock price multiplied by the number of shares outstanding.
On the other hand, Adidas's brand value is at approximately 16.481 billion U.S. dollars. The value of a brand represents the estimated market price of how much that brand is worth on the market.
Revenue and Net Sales
Here is a table with Adidas's reported Revenue and Net Income for the past five years.
| | | |
| --- | --- | --- |
| Year | Revenue in million EUROS | Net Income in million EUROS |
| 2015 | 16,915 | 680 |
| 2016 | 18,483 | 1,079 |
| 2017 | 21,218 | 1,351 |
| 2018 | 21,915 | 1,707 |
| 2019 | 23,640 | 1,917 |
Data collected from the Wall Street Journal website.
---
Disclaimer: Great care has been taken to provide accurate information about the brand, note that there might be some things that are subject to correction. Please refer to official Adidas sources for more information.