I've managed many social media accounts over the years, which means I'm very familiar with the struggle to create and post original content all the time.
Sometimes we need a little push toward inspiration, and that's perfectly OK.
Social media can have a significant impact on the way that a brand is perceived by the public. If you're new to the game, or if you need a few tips on how to improve your social media strategy, this list is for you!
To put things into better perspective, I will put the strategies into four groups: Prepare, Design, Plan and Engage. So let's start!
BEFORE YOU START CREATING
People need to know and understand who you are, to connect with you. The brands we love and use every day are things that wake up emotions within us. Platforms like Instagram have made it possible for people to get in touch with brands and form a closer relationship than ever before.
Creating an emotional connection with your audience is necessary if you want to stick out of the crowd. For this part, let's take Nike as an example.
1. Share your brand story
Your purpose and your mission are the first steps toward connecting with your audience. Tell everyone why your brand exists, and what is it you're trying to accomplish. Find a way to tie your goal with the goals of the audience. How do you help each other?
2. Choose the right platforms
There are hundreds of social networks where you can have a presence. But is your audience on all those platforms? Depending on what type of content you produce, you need to find the right social media platforms for your business.
Don't invest time on places where your target audience doesn't hang out at all. Likewise, don't miss out on reaching new people by not being present on the right channel.
3. Find the right people
At the beginning of my social media journey, I thought that the more people I reach, the better. I learned the hard way that the reach is not as important as the target audience can be.
Everything is not for everybody, and reaching a person that will love your brand from the start is way more valuable than reaching 10 people that won't look twice.
Make at least two target audience profiles with a list of the demographics, and problems they might face. Don't be afraid to think outside of the box, go into as much detail as you can.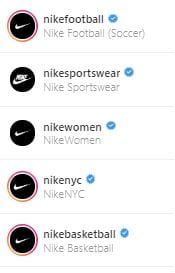 Nike's target audience might be people interested in fitness, but they also put a flip on it by saying that everybody can be into fitness. Since it's a worldwide brand with a massive audience, they go as far as creating different profiles for sub-groups.
4. Find your voice
Once you got your mission and your audience figured out, try to form an emotional connection with them. Tell stories about yourself, your brand or things you've learned from other people.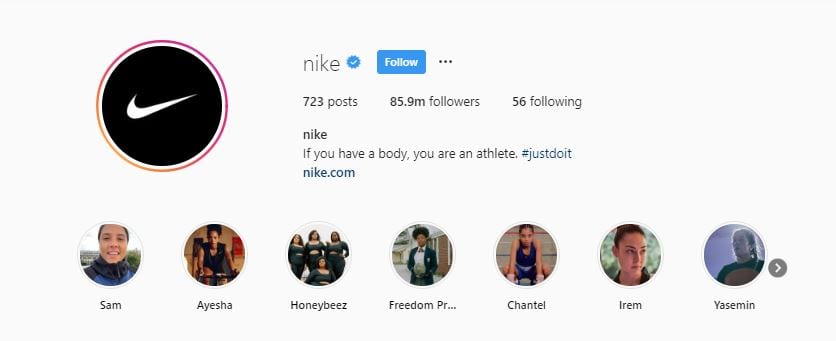 Nike uses the personal success stories of other people, to connect with new audiences. That way, the content feels more personal and appeals to peoples emotion.
GO VISUAL
Once you have an idea about the emotions that you want to share with others, you can start thinking about the visual presentation.
I don't know about you, but when someone mentions movies or tv series, my mind goes straight to Netflix. It definitely has a memorable visual experience for the viewers, so it's a valid example for the next few tips.
5. Use Appropriate Colors
It is proven many times over, that colors and different tones have an effect on our mood, our decisions and even the perception of products and brands.
Find the right colors that express your brand identity, as Netflix does with the use of bright red.

© Netflix, Inc
Apply your colors when you're creating original content and find a way to implement them in the posts. With time, people will start to associate those colors and the emotions they awake, with your brand.
6. Create a good Logo
A brand logo is equivalent to a profile picture, and you know how important first impressions can be. Every brand needs a well designed, memorable logo.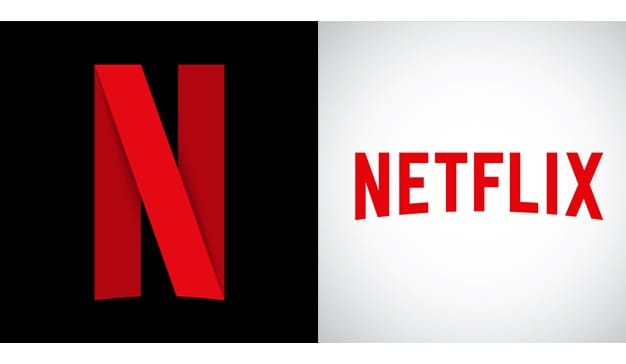 Netflix and many other brands use different variations of the logo to fit different purposes. Posters get the full version of the typography style logo, and things like profile pictures have the single N version which is a bit more detailed.
Use your logo as a signature stamp on the content you create.
7. Create Mood Boards
Mood boards are a great way to get inspired when you're creating content. Always be on the lookout for inspiration, find designs that get your creative juices going and use them to your advantage.
Mood boards include ideas, color palettes, and any other visuals that inspire you. Pinterest is a website created especially for this purpose.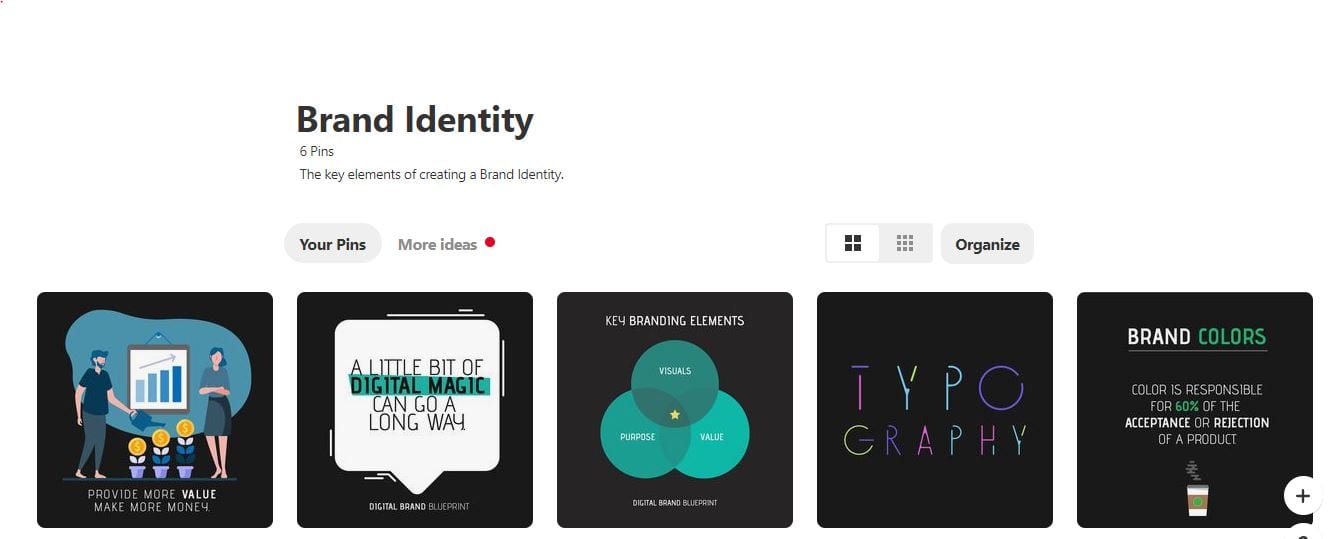 8. Have ready to go templates
There are times when certain elements get used more than once, like quote creation, banners, and other materials.
Create a library of templates and other visual assets that you need and use regularly. This way you won't lose any time or nerves making things from scratch all the time.
STAY CONSISTENT
There is a lot to say about staying consistent with your posting on social. People need to know what to expect from you, and you always need to deliver.
9. Find the right time to post
There are many debates about the perfect time to post on social, but the reports are not set in stone, and they always change. Of course, social media has users from across the globe, all with a different time of day.
You can find the best time to post for your brand by keeping track of the days that your posts get the most engagement. Instagram also offers information about the most active days and time of day of your followers in the Insight tab. Check the times, and start testing according to them.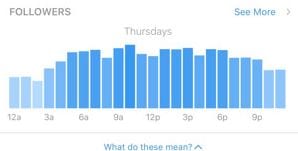 10. Create a content schedule
It's no secret that algorithms tend to favor profiles that post more often and stay relevant. Make a schedule that you will follow and always deliver on time.
Let your people know about your posting schedule as well, don't leave them guessing about what they should expect. Often times, people want a clear answer on what to expect, or they will look the other way fast.
For example, in the Bio section of our Instagram profile, we let users know what they should expect from the profile if they follow us.

ALWAYS ENGAGE WITH YOUR FOLLOWERS
As mentioned in this Instagram Brand Report, people are getting used to connecting with brands more, and they expect and support brands that are there for them.
Many brands have a good relationship with their followers, and they include them as a part of their social strategy. Let's look at how Starbucks does it.
11. Interact with people
Reply to comments, tweet back and engage with your followers as much as possible. Simple interactions can go a long way, and they will make people be more appreciative of your brand.
Starbucks often replies on social media, which makes the users feel more connected with them.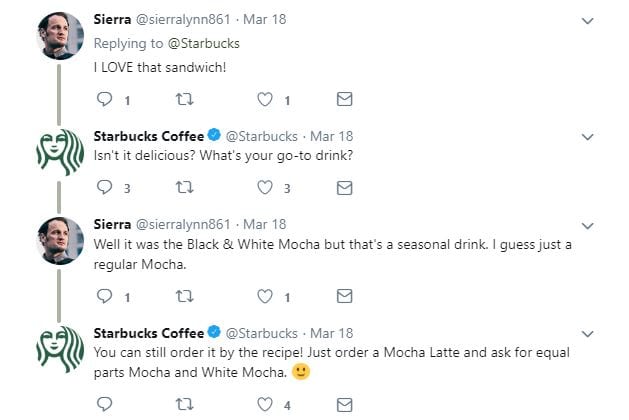 12. Use the right keywords
This ties with the consumer profiles form tip number three. When you know who you're posting for, it's easier to find the right words to use.
The same goes for hashtags. If you use the right ones the chances to attract the right people for you will significantly increase.
Pro tip: Use a combo of general term hashtags and hashtags that relate to your niche topics.
13. Add a call to action
Your content can be remarkable, but sometimes the people who see it don't even think about sharing. That is where a call to action comes in.
Let them know what you expect next, or what they can do with this content.
Should they tag a friend? Comment their opinion?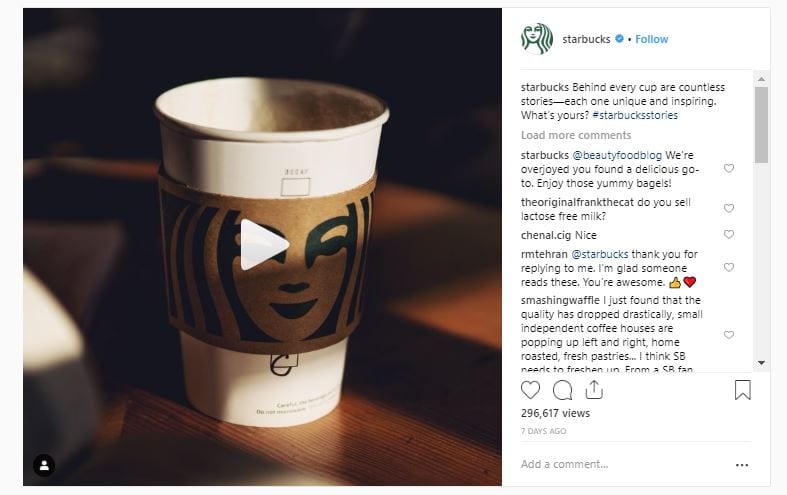 14. Give your followers incentive
Sometimes you need to give your audience a slight nudge toward engagement. It's hard to say no to a giveaway or a prize. Your audience can market your brand for you if you give them a little bit of encouragement.
Get creative and find a way to get your audience more involved in your social strategy, and use the following you already have to reach even more people.
15. Embed the content into your website
Embedding social media photos in your blog posts can increase the content reach and bring people from your website, straight to your social media.
You can also add a feed or a photo real to other parts of your website. This is a perfect way to showcase your social updates and draw more people in.
Find creative ways to use cross channel promotion of your social posts.

When you combine all the elements above, your brand should have a unique style. Everything you post on your social media should be a part of a bigger picture, and all the elements should complement each other.
A unique visual identity can make your brand stand out and be more memorable.
Share this with your friends?