Free Marketing Strategies for New Brands
I started with social media marketing back when I was still in high school. I would make a Facebook page for about anything that pops on my mind and then I would look for a way to get people to join them.
As my interest in digital marketing increased, and I begin to  look at things from a business point of view, I started working on my first brand. Since I was a college student, there was not much left from my budget to promote my brand. I had to get by on $5 ads and organic growth.
So, can you succeed if you don't have a big budget dedicated to advertising? How can you increase organic traffic and growth?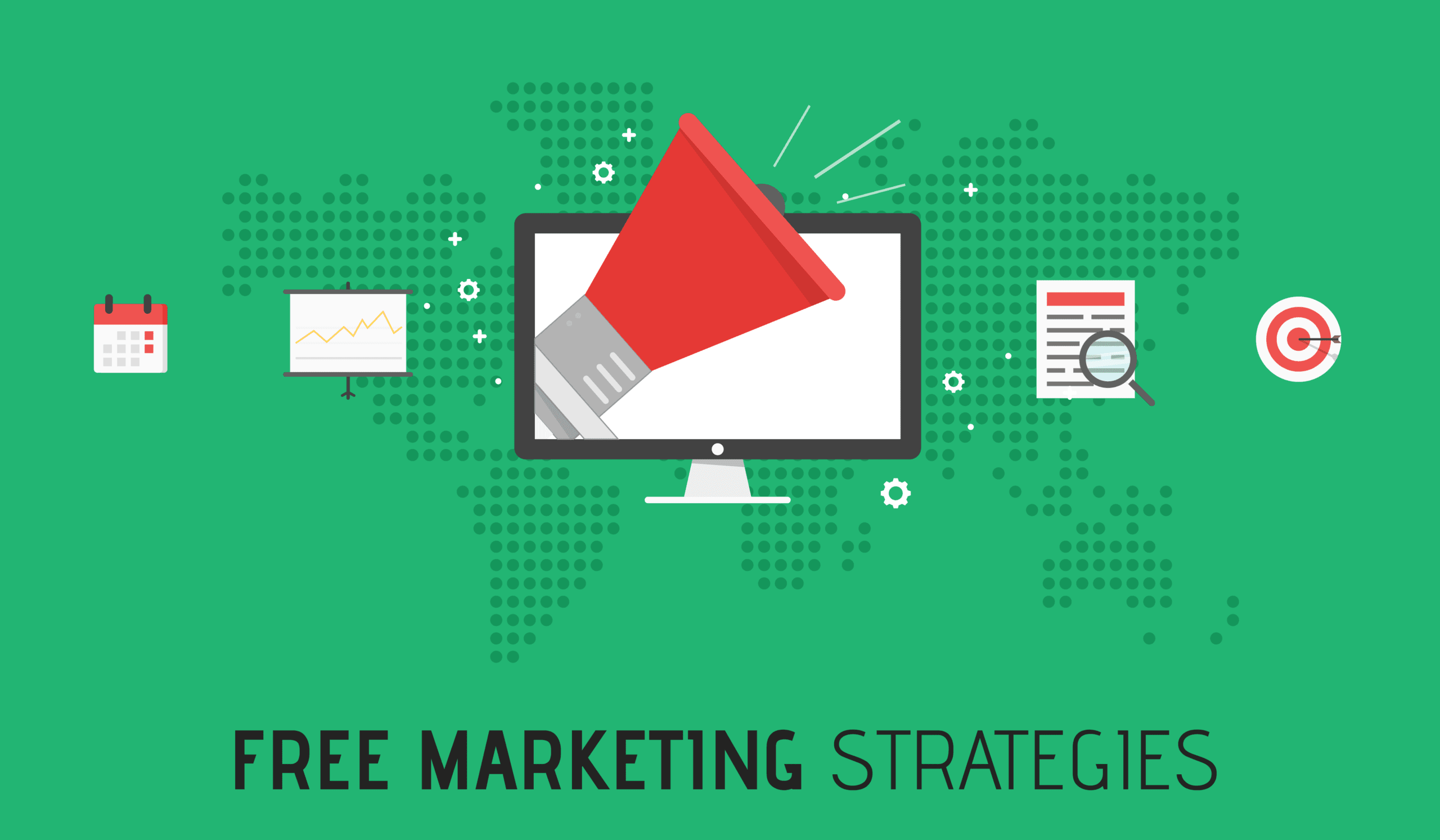 I know that the marketing budget can be low some months, so I want to share a few tricks I picked up over the years on how to work on your marketing strategy for free.
TIP: OPTIMIZE YOUR CONTENT
One of the biggest things that drive organic traffic is optimized content. What that means is making the content fit the goal of your desired reach. The good news is that even though there are many paid options, content can optimize content for free.

1. Search Engine Optimization
The talk about SEO won't stop any time soon. Brands are looking more and more into optimizing all their content, to make better use of the algorithms that search engines use.

Optimizing your content for search engines can bring you an organic boost in traffic. Make sure that your website has smart use of keywords that relate to your content and your business itself.
Google Trends is a tool that lets you keep track of real-time searches, keywords, and trends. You can compare keywords and their use based on time, and see related searches. It's a great way to get some insight into what people are searching for in your niche.
2. Device Optimize Your Content
People access the web from different kinds of devices. That means that your website should work on all device types, including desktop, mobile, and tablet.
Google announced that they give the advantage to websites that follow the best practices for mobile-first indexing. According to the announcement "The majority of users now access Google via a mobile device, the index will primarily use the mobile version of a page's content going forward."
3. Use The Right Keywords
While SEO can increase your website rank, the use of appropriate keywords and hashtags on social media can also work wonders on your reach.
Using the right hashtags can help you reach new audiences on social platforms like Twitter and Instagrams. They are a big part of social media and people are looking through them and following them all the time.
Use a combination of general term hashtags, and hashtags relating to your narrow niche topics.
TIP: CREATE SHAREABLE CONTENT
While optimizing content for search engines and explore pages is there to bring you new audiences, shareable content is here to spark engagement with both new and existing audience.
Algorithms tend to favor content that gets more shares and engagement than other similar posts. There are different ways that your content can reach shareable status.

4. Relate to Your Audience
That is content that your target audience can relate with and content that helps them with their problems.
Put quality work into everything you do online, and your brand will get an increase in engagement as a result. People will recognize the value in your posts, and they will be glad to share them.
Sometimes there will be a piece of content that will pick more attention than usual or when you don't even expect it. That is a perfect learning opportunity for you to analyze the content that your audience loved, and to try and create more of it.

5. Reward Your Audience for Sharing
Sometimes you need to give your audience a slight nudge toward engagement. You can do this in many ways all you need is a good plan.
It's hard to say no to a giveaway or a prize. Your audience can market your brand for you if you give them a little bit of encouragement.
That doesn't have to cost you anything if you offer a product that you already have for free, or you offer a free service.
Pro tip: Avoid looking, suspect, when you do this.
6. Add Calls To Action
Your content can be remarkable, but sometimes the people who see it don't even think about sharing. That is where a call to action comes in.
Let them know what you expect from them next, or what they can do with this content.
Should they tag a friend? Comment their opinion?
Adding a call to action will boost your organic engagement. Invite people to engage with your content, and the chances that they do will massively increase.
TIP: CREATE A LONG-TERM STRATEGY
While we're on the topic of reaching more people through content, let's talk about a content strategy. I know that creating content that has all the qualities mentioned might seem like a hard task, but it won't be, once you create a content strategy.
That means that you should plan out the content that you post ahead of time. Sometimes we see something that we must share right away, and that is great. Those spur of the moment posts are a good addition, but you need a strategic plan of what you're going to be posting.

7. Set goals for your content
What is the big thing that you want to achieve with your brand purpose this year? Start by asking this question, and work your way from there. Create a month-by-month plan for topics that you'd like to talk about on your website, blog, social media and so on.
It's easier to create the right content if you have a plan on what you're working to achieve. A set of goals will serve as an anchor to your content creation.
8. Stay Consistent
Consistency is another important factor when it comes to growing your following. Stay on schedule with your goals and produce something new consistently.
That proves to people that get in contact with your content that they can expect new posts and updates regularly. This way, they are more likely to start following you. You can even let them know about your schedule on your social media descriptions or your about page.
Let everyone know what should they expect from your brand. Do not leave people guessing about these type of things, because they will walk away due to lack of information.
TIP: REACH OUT TO YOUR AUDIENCE
We've covered all the ways you can make it easy for people to find your brand. Now here is a crazy idea. You can find new people too.
You can reach out to people that are already looking for help online — and there's plenty of people online.

9. Join Forums And Groups
With the power of the internet, people with the same interest are gathering online to discuss the topics of interest. The most popular ways to do so is to join forums and Social Media groups. Think about where do people that you're targeting might hang out online.
You can use these groups to your advantage. Join and become a part of groups that are in your field of expertise. Reach out to people and discuss with them, help them, and introduce them to your brand.
Your brand can solve the problems of many people who haven't found the right solution yet.
10. Interact More
You might have a following already but is your audience warmed up to you, enough to buy your product or use your service?
In recent research done by Facebook about How To Connect To New Audiences on Instagram, people said that they use it because they can interact with brands, influencers, celebrities, and friends.
That means that people love it when brands interact with them. It creates a stronger connection with your audience, and they will be more likely to share, recommend and so on.
Make sure that the audience connection is at a high level.

TIP: CROSS-PROMOTE YOUR BRAND
Cross-marketing is a way to leverage the audience of other brands and individuals to reach new people. There are other brands with a similar audience as yours, which means that you can appeal to each other's audiences and share some of the numbers.

That is a great way to reach new people because they will see that your brand is getting support from someone they already trust. Since they're already interested in the topic, they are more likely to check you out.
11. Collaborate with others
Collabs with other people and brands can be extremely beneficial to both parties involved. You will borrow from each other's audiences, and you will help each other reach higher engagement.
Find the right friends for your brand and reach out to them for collaboration. They might even have an idea about what to do already.
12. Guest Posting
Reach out to websites and pages that would display your content in return for you creating it for them. A great way to do so is by guest posting on blogs or creating work for others.
This way you will get your name out there, and you can link to your brand via that post. You give away your expertise for free, and you get the rewards in return. 
So yes, you're not hopeless when the budget is tight. In fact, it's good to do these things either way, because they're good for business.
It's easy to pay for ad placements, but sometimes the best marketing is the one you pay for with quality work.