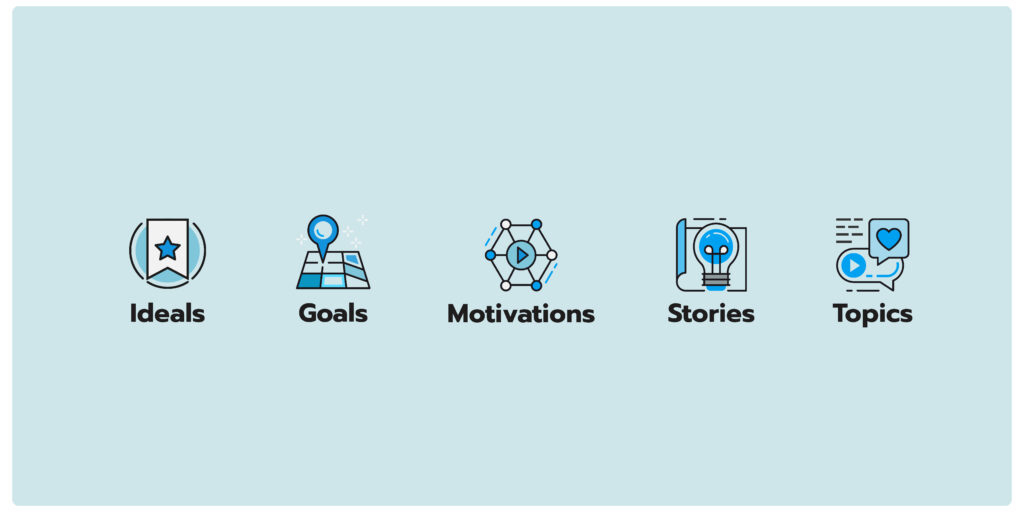 No matter what kind of business is in question, every single brand is in the market of communication with people.
For an exchange of value between the two to happen, both sides need to communicate and then connect on a certain level.
That is why personality is a big part of your brand identity. If your brand could actually speak to consumers, it would define its voice.
A well-defined personality can provide people a "shortcut" for making sense of what your brand is and stands for. It can help you effectively set up, communicate, and meet consumer expectations (plus some more).
Essentially it's all about building up concepts and lenses through which you help the consumer view the world with the help of your brand.
Through my work with branding, I've detected 5 key elements of brand personality that can help you nail that "initial read" that people subconsciously see when they first come in contact with your brand.
1. Ideals
Your brand ideals make up the rationale of how you work and deliver value into the world. It's about going beyond the transaction of product or service.
It's the impact you aspire to create in the world.
People like to know that there is a standard in place for the brands they choose to use. They want to know that something bigger connects them.
Declaring your ideals is a great way to set up accountability with your customers and a good measure of success for your team internally.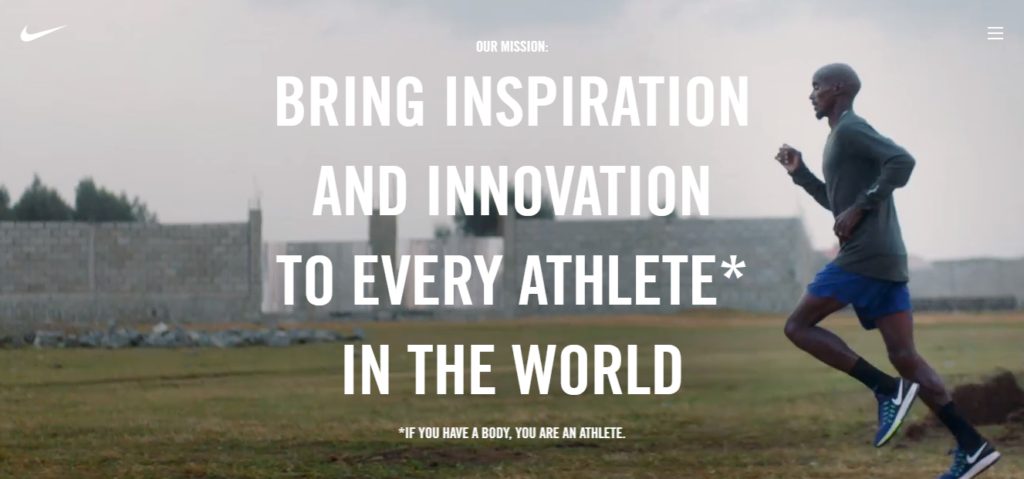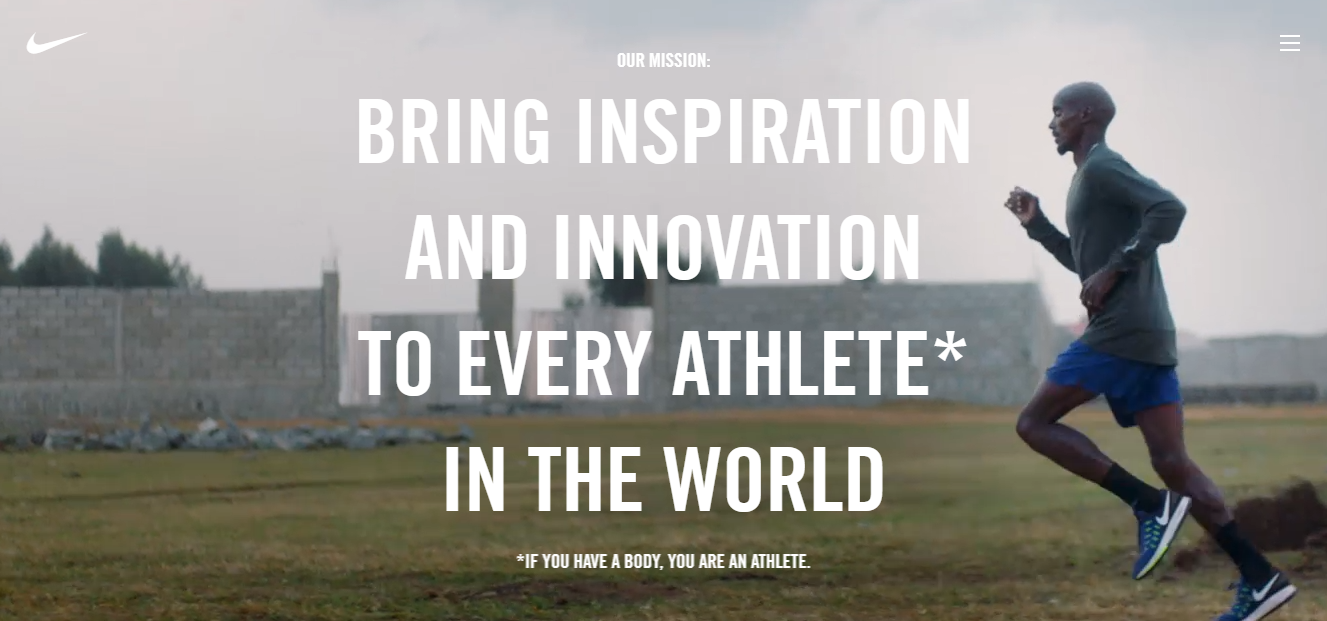 Example: Nike's mission is to bring inspiration and innovation to every athlete in the world. And they believe if you have a body, you're an athlete. Collected from Nike's website.
What are your winning aspirations?
Ideals are best-described with one-sentence ideas. You should be able to sum up the whole idea in a short, clear sentence. Powerful yet easy to digest.
2. Goals
Going off aspirations, it's good that you set some goals for your brand. Again, we are approaching things past business intentions and transactions.
Brand goals define the impact you want to have on customers.
Example: The goal designer Chirs Do has is to help teach one billion people how to make a living doing what they love through his platform. Collected from The Futur's website.
There are three goals that I think every brand should aim for:
To unite people with a goal to build a community. A place where everyone is on the same mindset. How are you getting your people involved?
To transform their lives with the help of your service. It's usually more than a purchase. What do you help them unlock in life?
To provide premium value. What does that look like for your brand?
Set some brand goals together with a plan to make them happen. Figure out how you can start customers on a journey of small wins and go from there.
3. Motivations
If ideals and goals show what you aspire to create, motivations express the "why" behind them. Motivations are the things you talk about confidently, passionately, uniquely.
They make it easier for the customer to take on the brand's philosophy and deepen their affiliation with your brand.
What you stand for.
How you approach situations.
Your point of view on relevant issues.
What is the mindset that has to be in place to reach them?
It's about setting a cause and then following through on those promises.

4. Topics / Brand Content
Brand topics are the things you want to talk about and teach others. It's a way to synchronize the things you and an individual customer both care about.
You can build on these topics by providing valuable content in areas that are necessary for the whole tribe to succeed.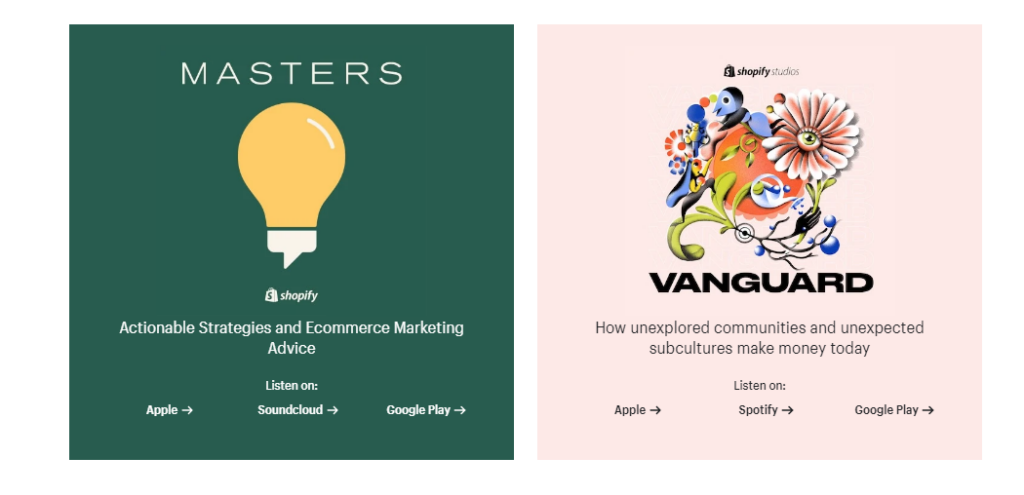 Example: Shopify hosts two podcasts relevant to their community. One is about marketing and strategy, and the other about the potential in lesser-known communities and subcultures. Collected from Shopify's website.
Whether it is for your social media, your brand website, or any other platform, content can help you connect with your consumers.
What kind of topics will you talk about? Here are a few examples:
Educational: The purpose of this type of content is to provide answers, solutions, and information to your audience.
Inspirational: We all need those small nudges toward making the best from life, and this is where your brand can come in and make the push.
Community: Not all content needs to be made by you. This type of content can help you build relationships by direct involvement with your people.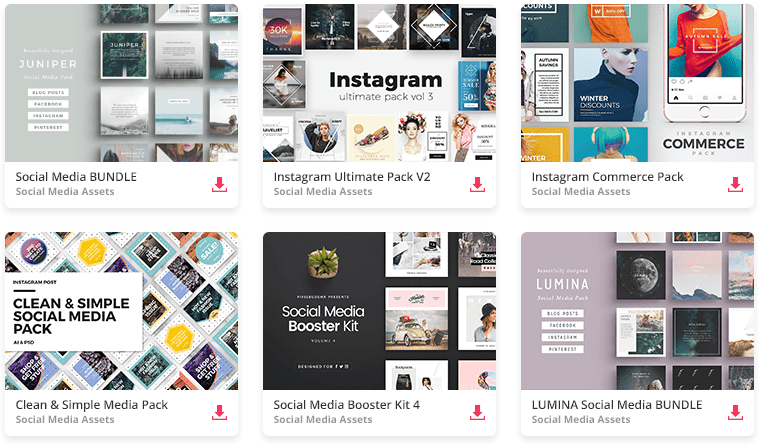 All the Social Media Graphics you need and many other design elements, are available for a monthly subscription by subscribing to Envato Elements.
There is no need to create every single thing from scratch. You can get the stuff you need and make them your own. Save time and energy on creating content.
The subscription gives you unlimited downloads from a massive and growing library of 1,500,000+ Social Media Graphics & Design Assets that can be downloaded as often as you need (stock photos too)!
This is an affiliate partner offer. If you like the products and choose to subscribe through our links we will get a small compensation in return, at no extra cost for you. These type of offers keep the website online and help us create more content about branding. Thank you for your support!
5. Stories
Stories help customers connect with your brand emotionally, visually, intellectually. It's about building on your identity through sharing stories about your organization or the people that are part of it.
Tell stories is to make people feel good. Stories that can make people want to take part in what you're doing.

Example: Mind Journal utilizes the story of its co-founder Olly to describe its purpose of creating a journal designed for men. Collected from the Mind Journal website.
Stories are a powerfully persuasive tool, and when packaged right, your ideas become unstoppable.

— Nancy Durate
An interesting story always hides behind the brand, and if you have one you should tell it to the world. What stories will you share?
Putting it all together
All of these elements are nested inside your brand personality.
They serve as a compass that you can check at all times to make sure that you're moving in the right direction.
Some of them you start with, and a lot of them you discover in time by creating and delivering value out into the world.
The one thing that is most important to remember is that the more you build on your brand personality, the more premium value you provide.